The classroom teacher, Mr. Weston, talked with Xiaochao Tao about classroom teaching methods and how she might improve students' interest in learning Chinese culture and history. Mr. Weston gave Xiaochao a good evaluation, saying she is nice to her students, is trying different teaching methods to stimulate students' interest, and tries to understand each student's different hobbies to help introduce Chinese culture and history; the students often inquire about the differences between Chinese and American cultures.
A classroom teacher, Mr. Weston, talking with Xiaochao Tao
CIAU Director Jijun Yu attended the Chinese history and culture class taught by Xiaochao Tao, which has eight students in grades 7 - 12. These students take a test on Chinese culture, history, and newly acquired language once a month. After the class, Director Yu gave some suggestions for classroom management, the formulation of a teaching outline, and a goal-setting system.
Ms. Tao Chinese class
Under the leading of CIAU Director Wilfred Huang, a delegation of Northstar Christian Academy staff and eight students went to China for a visit to Beijing, the CIAU partner school at China University of Geosciences (Wuhan), and Shanghai.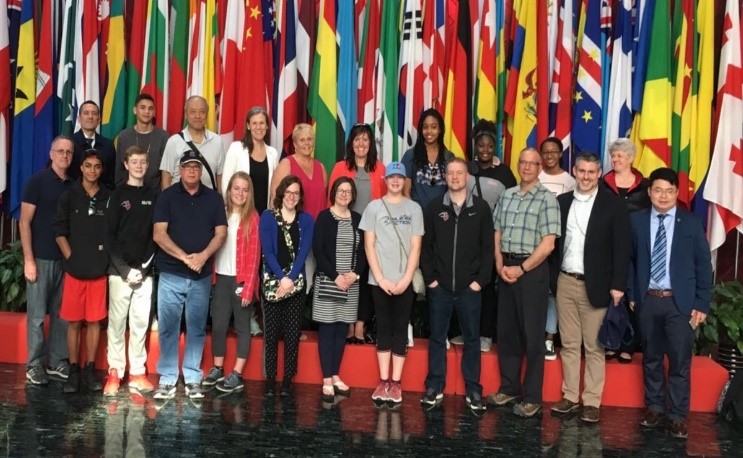 The Northstar delegation at Hanban Headquarters
The Chinese teachers helped their students to make a PowerPoint presentation in the computer lab about their trip to China.
Working on the presentation in the computer lab
Jijun Yu listened to Yang Yang's third-grade Chinese class on March 8th. He acknowledged Ms. Yang's teaching work and gave some advice. And Yang Yang communicated with most of the other Northstar classroom teachers about improving their cooperative teaching. Second-grade teacher Ms. Carlson said, "Personally, I love Chinese culture and Chinese classes. Students really like the music to the Number song. When doing the counting, I notice, they are just trying to move and say the Chinese words. They always focus well with Miss Yang Yang." The elementary students learned about the topic of birthdays in March. They can express their birth dates and can sing a "Happy Birthday Song."
A third-grade student, Essence, filling in her birthday card
A 2nd-grade student, Jameson, coloring Chinese characters and birthday cake

A 6th-grade classroom teacher learning to write Chinese characters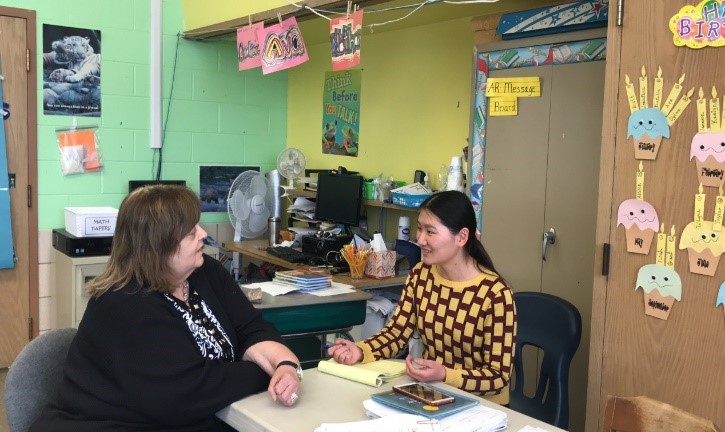 Miss Yang communicating with second-grade teacher Ms. Carlson on Chinese teaching
Two 7th graders at Northstar Christian Academy, Roberts Gage Wheaton, whose Chinese name is Weiping, and Joshua Rowland, whose Chinese name is Kaijun, said they like challenging different cultures. They expressed their appreciation for Chinese classes and hope to go to China in the future.
Roberts Gage Wheaton, Chinese name Weiping, practicing a Chinese tongue twister, "Si he Shi (Four and Ten)"
Joshua Rowland, Chinese name Kaijun, practicing "Si he Shi (Four and Ten)"
Students and their classroom teacher, Mrs. Santos, in third grade, Northstar Christian Academy wearing Chinese Opera masks and saying colors in Chinese